Have you ever wrote a word down, perhaps in the middle of a sentence, and you are confident that that's the word you want to use. It's correct in it's spelling and usage, but for some reason...
...it...just...doesn't...look...right.
Maybe it's because you've been staring at it for so long that the meaning of the word itself has been lost, so much to the point that you forgot why you put it there in the first place, has that ever happened to you?
...anyone?...
Okay, just me. Moving on.
For the past couple of weeks, I've been, among other things, creating new designs and polishing up some old ones, and putting everything on t-shirts. After a few marathon sessions of uploading everything to
CafePress
, I have a feeling I'm turning into something resembling this...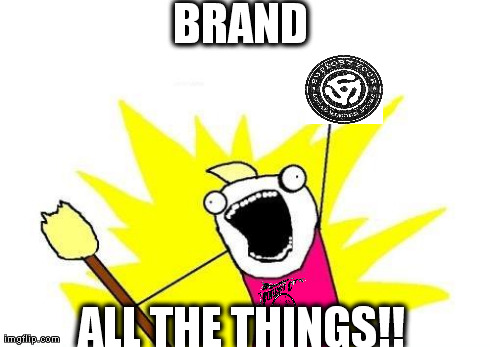 I have researched my competition, and have decided to cast a wider net; take a chance and apply designs on items other than t-shirts. Take every design that is black and white and apply a little color to it and see where that takes me.
I started with this...
Just a little totem of positivity that I introduced a few
posts
back. It seems to work for the most part, although for some of the dark shirts, it might not. But I can't be hindered. I need to take chances and make mistakes, something has to catch on. It's not that I'm worried, because I'm not. I'm enjoying the process. Honestly, I'm having a good time.
Then, I went out on a limb and tried something new...
"Hope is a good thing... and no good thing ever dies."
Something happened. Whether it was on purpose or not, I felt the need to steer my ship in the direction of something hopeful. As if I needed some psychic healing and the only way to get it was to send out messages of hope. As if every message I interpret, gets me closer to feeling...I dunno...better? The feeling closer to having air in my lungs rather than feeling like I'm drowning? The feeling like a future isn't as murky as it once was? Hope? The above is a quote from Stephen King, and it's translated into Quenya to the best of my ability (somebody, please feel free to correct my grammar). This one feels good. This one feels like I'm onto something.
After I exhausted every possible product to put that design on, I decided to venture further into this. The next project, I feel a little iffy on. This one, I may need a second opinion.
This is a derivation of a quote from
Antonio Porchia
; an turn of the century Argentinian Poet whose concise; almost haiku-like poetry has influenced many of his contemporaries. Blah blah blah, read the article.
I don't think I have a real question at this late hour as I finish off this post. I am, however, looking for opinions. I've been staring at this for too long, and it's losing its meaning the longer I look at it. Is this too vague? Should I even bother? I kind of like it, and it means something to me, but that doesn't always mean it's a good idea to act on it. Please let me know what you think, and thank you very much.